NEW DELHI: The first thing! Skoda India has finally realised the improtance of right pricing to remain in the competition in the Indian auto market. First, Skoda India slashed the price of their small car- Skoda Fabia and now they have introduced their much awaited SUV Yeti in India at a very competitive price. The SUV comes in two variants, Ambiente and Elegance with a price tag (ex-showroom Delhi) of Rs 14.98 lakh and Rs 16.98 lakh respectively.
Skoda Auto India started selling Yeti, its first Sports Utility Vehicle (SUV), in Delhi on Wednesday.
With the growing demand for SUVs in India, Skoda Yeti is all set to strike the right chord with the customers. Most of the SUVs currently available in India are in the range of Rs 20 laks or more. Only Mahindra's Scorpio and Tata's Safari are at the lowest rung of the SUV price ladder but then they cater to the demands of an entirely different consumer. These SUVs appeal to the semi-urban mass, who have a fixed budget in mind. But the same may not be true with Skoda Yeti as it aims to eat into the pie of Ford Endeavour, Toyota Fortuner, Hyundai Santa Fe, Mitsubishi Outlander.
What may work most in Yeti's favour is its small size- Skoda Yeti is one of the smallest SUVs in size. This makes maneuvering easy along with the fun of driving an SUV. It is powered by a 2 litre common rail direct injection (CRDi) diesel engine with manual transmission and a standard all four-wheel drive system. Yeti comes with six airbags.
Being promoted as "off-roader", it can traverse rough terrain, including mountain roads. Skoda Auto India has customised the vehicle for the Indian roads by improving the suspension. Let's have a close look at some stunning pictures of Skoda Yeti!
Skoda Yeti Car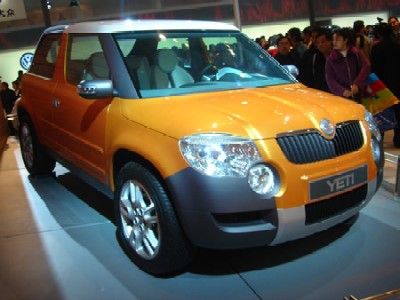 Skoda Yeti Car
Skoda Yeti Car