First impressions are very important, and where Automobile Magazine and the Infiniti G37 coupe are concerned, those first impressions were full of admiration. After power-sliding around a Nissan test track in Arizona during our first meeting with the G37 [June 2007] and blasting down back roads all the way from Tennessee to Michigan two months later, we declared Infiniti's sexy new sport coupe to be a near-equal to its chief rival, the BMW 335i coupe. That's among the highest praise we can give.
By their nature, though, first impressions don't always tell the whole story. We don't retract any of our conclusions about the G37's performance credentials - any dynamic differences between it and the perennial champion 3-series are small enough to fade into the background noise - but surprisingly, after a year of living with the G37, we filled its logbook with more complaints than compliments. The Infiniti may nearly match the BMW's performance, but it falls short in refinement. But we're getting ahead of ourselves.
First, the good news: Not once in 24,504 miles did our trustworthy G37 miss a beat. In fact, the only minor problem we encountered - a rattling exhaust heat shield - somehow fixed itself. Other than three scheduled service visits and two tire-shop sorties to mount and dismount winter tires, our G37 steered clear of the service bay. The total cost of the three routine service stops - $213 - was so reasonable that we barely missed BMW's free scheduled maintenance. And while we're on the subject of money, our fully loaded G37 Sport hit the ground running for almost $12,000 less than a comparably equipped 335i. That's an enormous savings, although spending nearly $45,000 for a sport coupe isn't exactly exercising financial restraint.
Our G37 was stuffed with $8560 in optional equipment. Apparently, it wasn't enough that our Sport model came with a 330-hp V-6, a six-speed manual transmission, a limited-slip rear differential, four-piston front brake calipers, a leather-trimmed interior, bi-xenon lights, keyless ignition, and power everything. We added an $1150 technology package (laser-guided cruise control and swiveling front headlights); a $3200 premium package (power moonroof, Bose premium audio system with iPod adapter and Bluetooth, heated seats, and assorted other goodies); a $2200 navigation package (including XM NavTraffic, a 9.3-gigabyte hard drive for music, and a backup camera); four-wheel active steering for $1300; a $550 rear spoiler; and $160 in nets and mats to secure the junk we'd be carrying in our trunk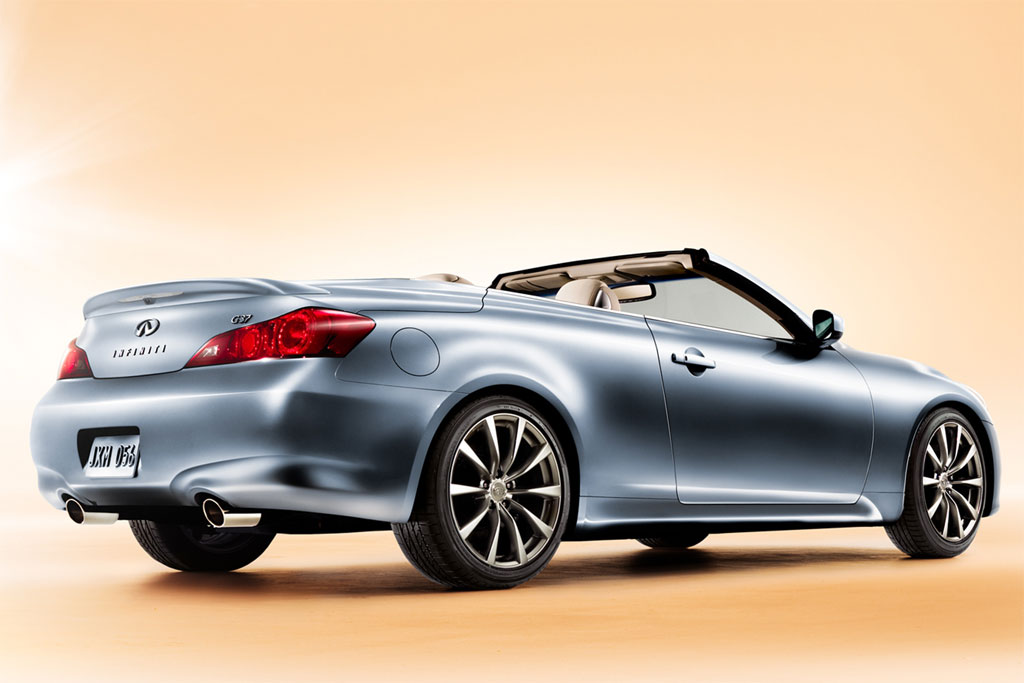 Infiniti automobile manufacturers – companies under the banner of Nissan – Infiniti launches G37 sedan in coupe and convertible form. True to its name as a special edition model, which features embedded in the sedan is also more luxurious.
Monaco leather first-class throughout any part of interior decorating. While on the exterior features of this car than marked specially designed alloy wheels, also by a Midnight Black grill. Both variants will also be given a touch of wood pattern and aluminum accents on some panels.
Infiniti calls, to spur kitchen still rely on 3.7-liter V6 engine equipped with an automatic transmission system with seven levels acceleration.
Infiniti G37 Coupe red colors appear very elegant. As if to tease, G37 Coupe is worthy of being idol exotic sports car lovers. With aluminum engine V6 3.696cc CVTCS, this warmest products can produce power 330 hp at 7000 rpm. Has a length of 182.1 inches, the G37 Coupe is so aerodynamic wind pressure was only 0.30 Cd (coefficient of drag). Infiniti calls the coupe version priced U.S. $50.550 and U.S. $54.900 convertible version.